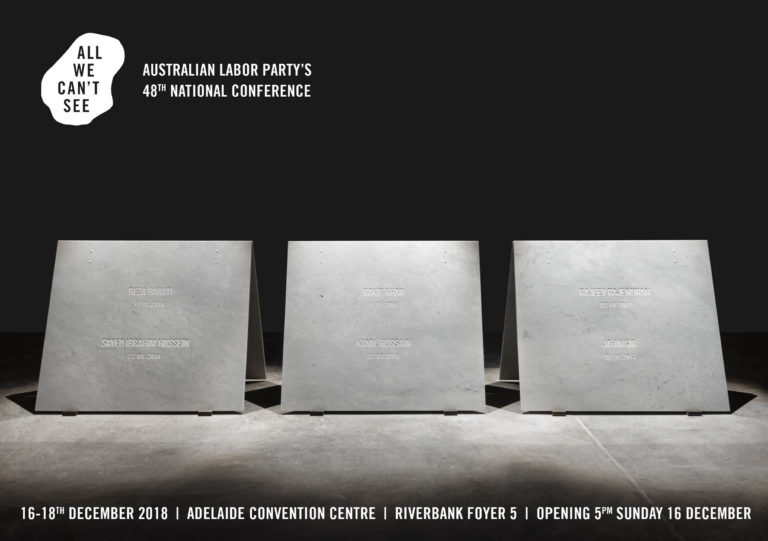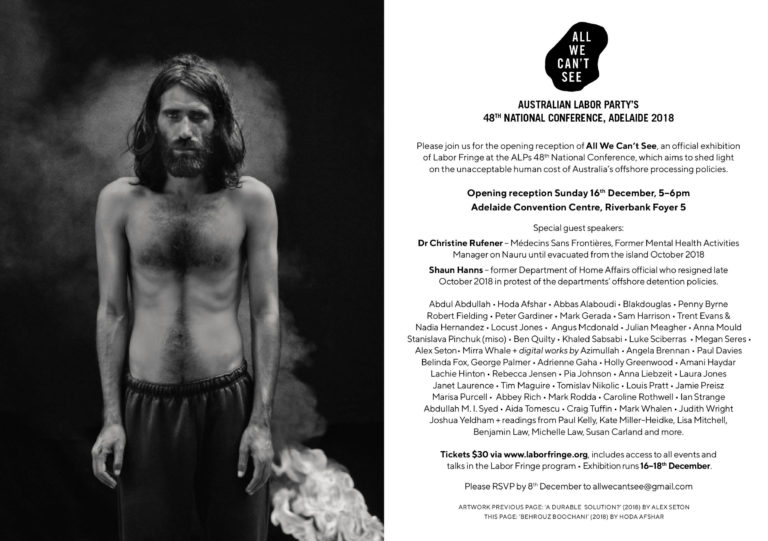 All We Can't See is an exhibition featuring works by 50 leading Australian artists responding to incident reports from Nauru detention centre in order to raise awareness about the brutal and unacceptable human cost of Australia's offshore processing policies. Artists include Alex Seton, Hoda Afshar, Abdul Abdullah, Penny Byrne, Ben Quilty, and many more.
After successful shows in Sydney and Melbourne earlier this year, a selection of works from All We Can't See will be travelling to Adelaide in December to hang within the entrance foyers of the Labor Party's National Conference, 16-18th December at the Adelaide Convention Centre.
This is where the party will be deciding on their immigration and refugee policies for the coming election. We are not endorsing the party, but rather using this platform as a way to pressure them to make concrete policy change ending indefinite offshore detention.
We believe that the ALP have welcomed our presence at their conference because they can no longer ignore the mounting number and volume of Australian voices – within their Party and the larger community – opposed to the indefinite, arbitrary detention of refugees in our care on Manus Island and Nauru.
As Labor delegates walk into the Adelaide conference each morning they will be faced with what both governments have tried to keep out of sight and mind for so long – the horrific human toll of offshore detention, as illustrated by Australia's leading artists.
It is vital that the Labor members with the power to end offshore detention are made to face the brutal human cost of their decisions to date.
We are calling for an immediate end to offshore detention, for the refugees there to be brought to safe and secure futures in either Australia or other safe alternative third countries, and for the development of sustainable and humane refugee and immigration policies.
KEY DATES
Adelaide at Labor Party's 48th National Conference
16-18th December at Adelaide Convention Centre, Riverbank Foyer 5.
An official event of Labor Fringe 2018
Tickets $30 via laborfringe.org, which gives pass-holders access to all events and talks within the 3 day conference.
Opening reception 5pm 16th December 2018 in Riverbank Foyer 5.
Special guest speakers:
Dr Christine Rufener – Médecins Sans Frontières, Former Mental Health Activities Manager on Nauru 2018 until MSF were forced to leave the island early October after almost a year of providing psychological and psychiatric services to refugees, asylum seekers and Nauruans.
Shaun Hanns – former Department of Home Affairs official who resigned late October 2018 in protest of the departments' offshore detention policies.
 "For almost a year now, I have been of the opinion that the system as it stands in 2018 relies entirely on boat turnbacks. This makes the continuing detention of those on Manus and Nauru not just tragic, but meaningless."